Our financial backers provide critical support that helps 2dnw promote the local artisans, crafters, food producers and other businesses that weave the fabric of our region. Thank you!
Artful and culturally-rich towns are good for business. They attract and keep the brilliant people and businesses that grow Idaho's prosperity. For 50 years the Idaho Commission on the Arts has celebrated Idaho's artistic and cultural heritage.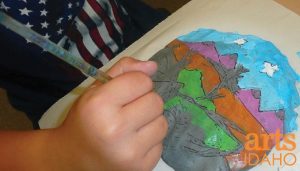 Promoting a dynamic business environment in rural Idaho is the goal of the Business Programs division of USDA, Rural Development, in Idaho. Business Programs works in partnership with the private sector and community-based organizations to provide financial assistance and business planning. Business Programs invest in projects that create or preserve quality jobs, help agricultural producers and rural small businesses reduce energy costs and help meet the nation's energy need, increase income to agricultural producers through facilitating value-added activities, and promote a clean rural environment.
Avista is an energy company involved in the production, transmission and distribution of energy as well as other energy-related businesses, providing electricity to nearly 340,000 customers and natural gas to about 300,000 customers across 30,000 square miles and four northwestern states. Avista has been recognized for the second time by Ethisphere, a global leader in defining and advancing the standards of ethical business practices, as one of the 2021 World's Most Ethical Companies.

The Port of Columbia serves as the lead Economic Development agency for Columbia County, and uses infrastructure development, real estate management, transportation, small business assistance, and community outreach to help create thriving communities in Columbia County.